Walmart has been accused of racism after a viral video appeared to show security tags placed on only darker shades of makeup at a retail outlet.
The video, allegedly taken at an unspecified Walmart in Kentucky, was posted to TikTok on Sunday and had amassed over 900,000 views as of Monday, while also being shared on other platforms like Twitter. The accusation of racism comes less than a year after the company announced that it would stop allowing stores to exclusively lock up beauty products made for people of color after being accused of racism.
"I'm at my local Walmart and I'm just looking at the makeup section and I noticed this," TikTok user @alynicoletta says in the video. "I'm looking at the concealers and they are all normal, but then once you get down to the darker shades, they have little security tags all over them. But they don't for the lighter colors. So, Walmart, tell me that you're racist without actually saying that you're racist."
A Walmart spokesperson said in a statement to Newsweek that the incident was being looked into on Monday evening, while noting that security policies may differ between individual stores.
"We do not tolerate discrimination of any kind at Walmart," the spokesperson said. "We serve millions of customers weekly, crossing all demographics, and are focused on meeting their needs while providing the best shopping experience at each store."
"Like other retailers, we have policies and training in place that allow individual stores to add additional security for items such as electronics, automotive products, cosmetics and other personal care products to ensure they are available for sale to our customers," they continued. "In this case, we are following up with the store to ensure those policies were followed properly."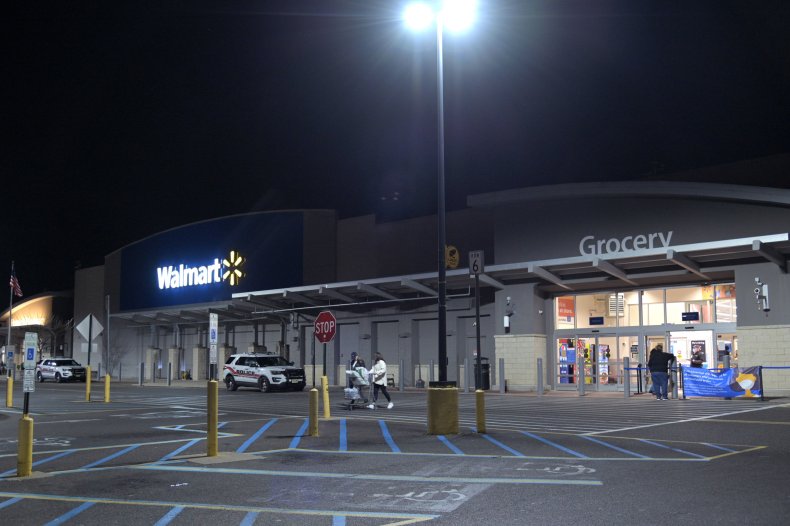 After massive Black Lives Matter protests erupted throughout the country last year, Walmart came under fire for alleged racism following a June report from Denver CBS station KCNC. The report concerned beauty products geared towards people of color being locked inside a case in some stores, while similar products aimed at white people were unlocked.
"If I want Suave or Tresemme or Pantene, it's out. The multi-cultural hair care is all locked behind the glass. That's so ridiculous," Lauren Epps, a Black woman who shopped at the store, told KCNC. "The message is clear: We don't trust you… And it's for what? Shampoo? There are bigger things that are happening in the world than people wanting to wash and cleanse their hair."
Days after the report, Walmart announced that it would no longer allow the practice to take place at any of their retail outlets, with the company saying the policy had been in place at only about a dozen out of 4,700 stores. A discrimination lawsuit against the company over the same issue had been dropped during the previous year.
Walmart established its Center for Racial Equity during the same month that it banned the discriminatory policy on beauty products, pledging to donate $100 million over five years to address racial disparities. The first round of funding, consisting of $14.3 million going to 16 separate nonprofit groups, was announced last month.
The company also recently commented on the results of a report conducted in collaboration with McKinsey & Company, which was released last week and focused on the experiences of Black workers in the U.S. Donna Morris, Walmart executive vice president and chief people officer, said that the company was "committed to continuing our focus on tracking and addressing issues at their core, both across society and in workplaces throughout America – including our own."